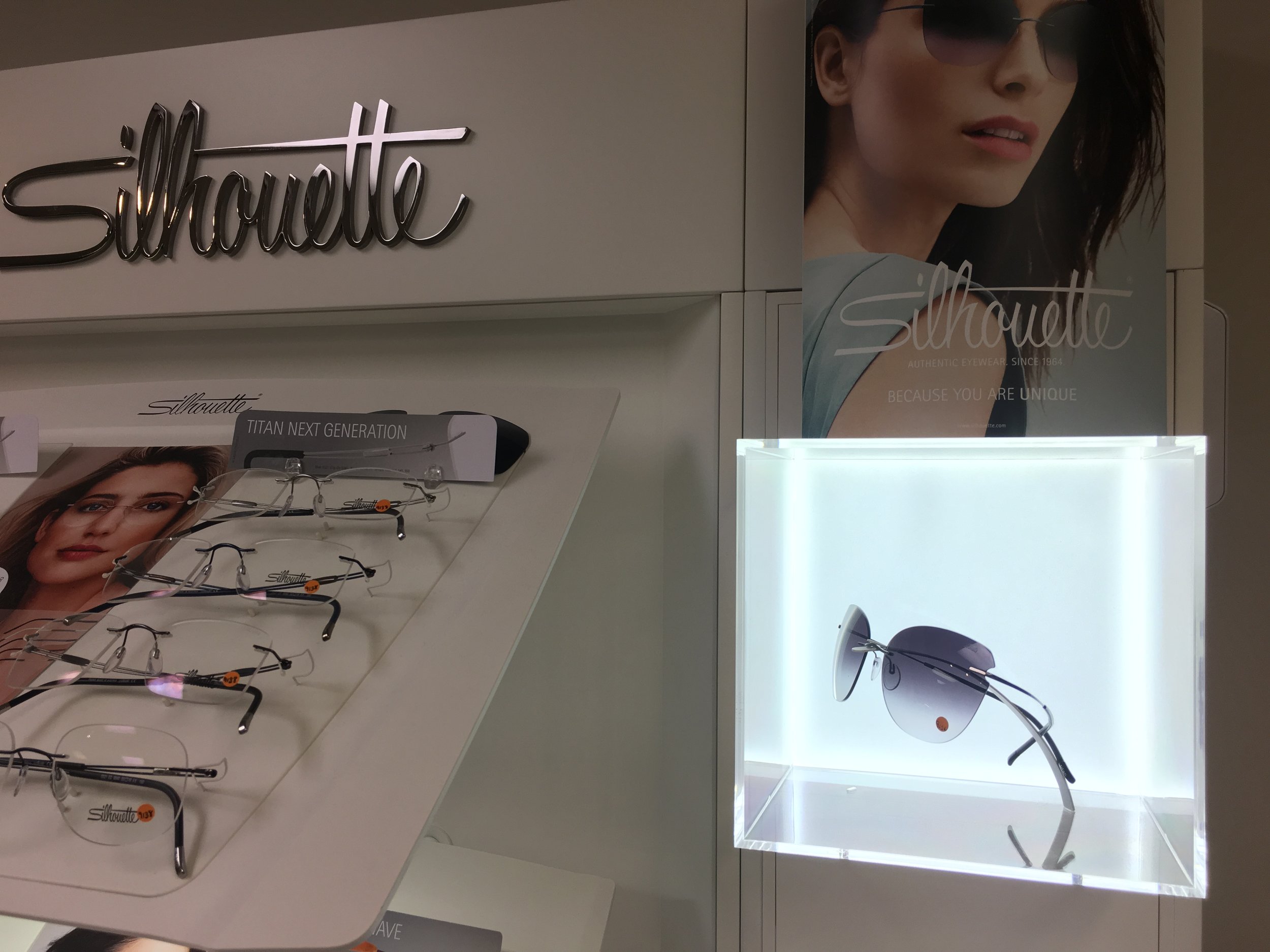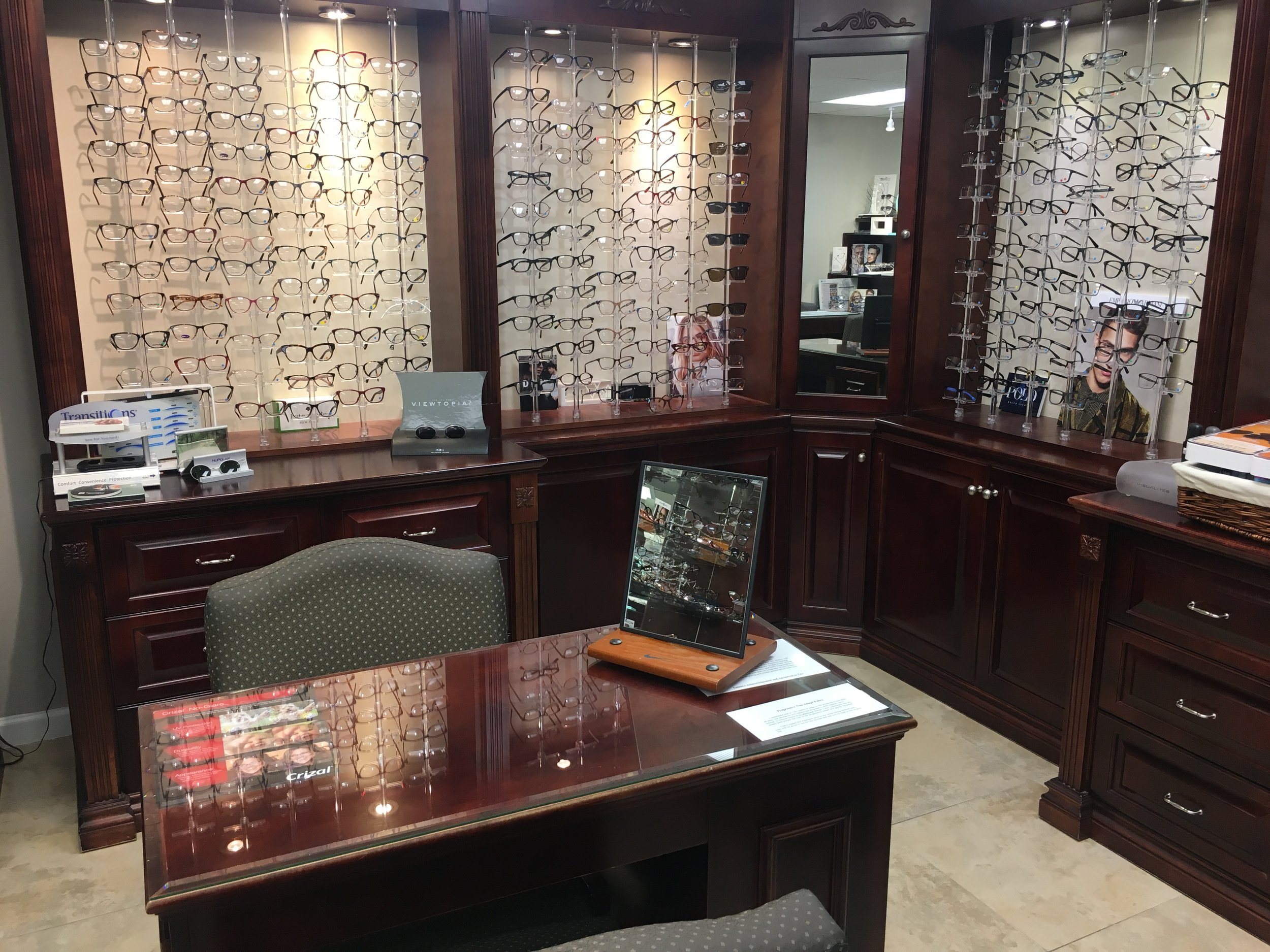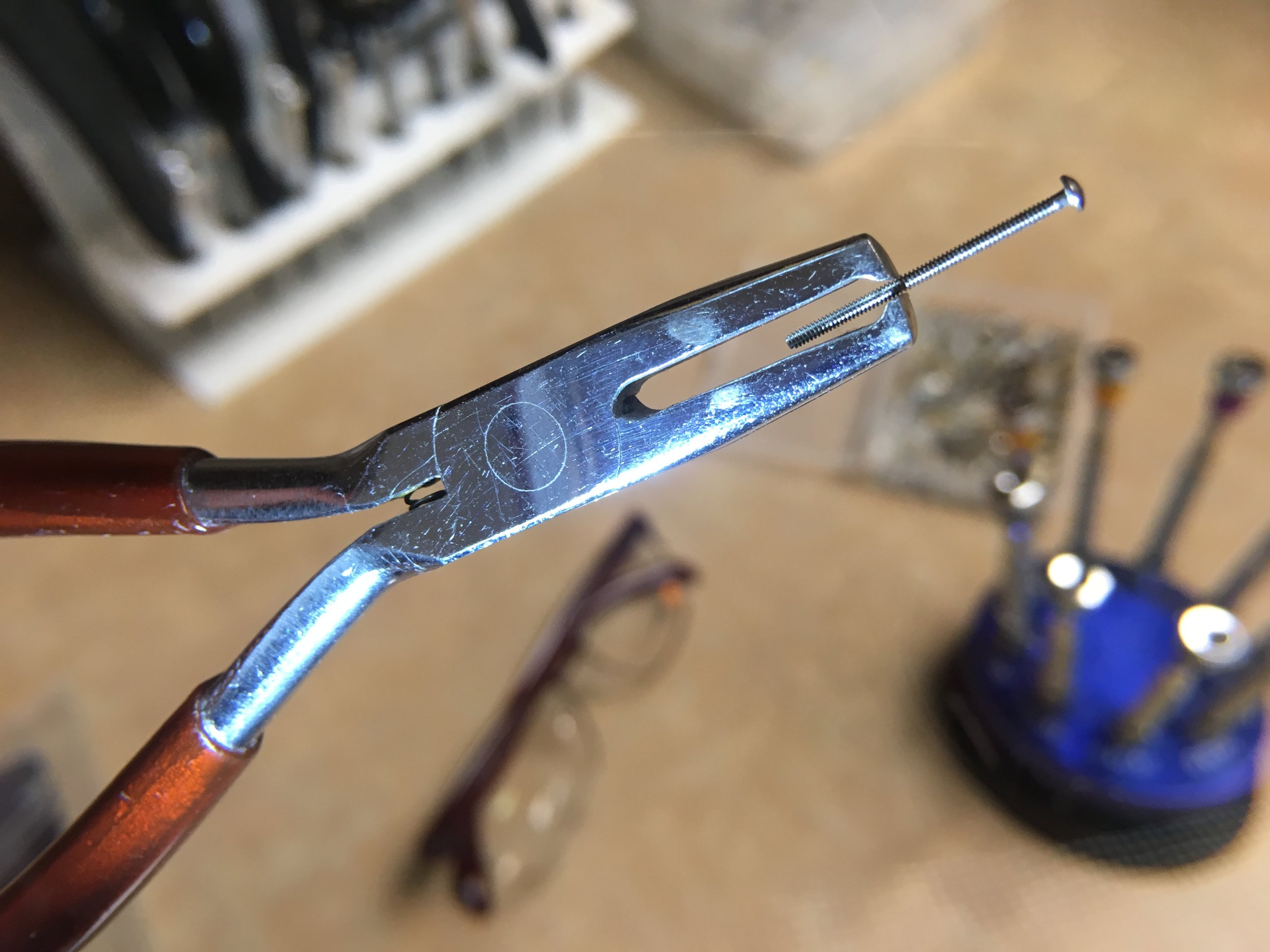 The Optical Shop
The optical shop located in the office of Dr. Ricardo Silva not only provides a place to order your contact lenses, but also houses many styles of beautiful frames. Once you select your glasses, an Essilor Expert will help you choose the right lenses using your latest eyeglass prescription. There are many types of special coatings available to help you protect your eyes, combined with the right style lens have the potential to become a perfect fit for your visual needs and lifestyle.
Our staff takes great care in this process and always gives an honest opinion. This decision can be difficult because of its subjective nature, but with the many years of experience, we can guide you in the right direction. Below is a breakdown of some of the services the optical shop can provide.
Services
Adult and Children Eye Wear - Many styles to fit any fashion aesthetic, work related necessity, and durable frames for the active.

Contact Lens Orders - with a current prescription, we are more than happy to order your contact lenses for you.

Contact Lens Training - At any stage, we are happy to provide training on insertion and removal of any type of contact lenses. Our qualified staff have immense patience to help you succeed in achieving comfort during this process.

Adjustments - at any time you may find your glasses are in need of adjusting, just walk-in at any time during our office hours and we are more than happy to help bring back your glasses to a perfect fit.

Repairs - Sometimes accidents happen. Bring in all the parts of your glasses during office hours so we can analyse the problem to see what can be done to restore your glasses. We do our best to fix any issue. It is recommended to bring any back-up pair of glasses with you in the case that your broken glasses need to be left behind in the office for special orders.
Special order
Swimming Goggles - One great product we can special order are swimming goggles to give you crisp and clear vision underwater. Florida has some great snorkeling locations and you would not want to miss out because it's a big blur.

Sports Wear - This great for activities that require your eyewear to stay put during sports and most importantly protect your eyes from injury.

Custom Sunglass Clip-Ons - These lenses are made to be a convenient answer to many lifestyle inconveniences by fitting almost any glasses using tiny magnets that are secured directly into the lenses of your current glasses. This special attachment is great for keeping your style of frame while acquiring the adaptation needed, such as a sunglasses attachments or intermediate and near lens attachments.
Lenses
Progressive Lenses- There are many varieties of progressive lenses. This type of lens is made to give you a smooth transition between your distance, intermediate and near visions without a "line". Most people adapt very well to these types of lenses.

Bi-focal and Tri-focal Lenses - These lenses have a clear "lined" distinction between distances. Some people still prefer this style lens over progressive lenses.

Sunglasses - The sun has the potential to cause damage to our sensitive eyes so it is important, especially in the "Sunshine State" to protect ourselves. We provide great options for your budget and style.

Computer Glasses - Some of us sit long and tedious hours in front of a computer screen. This may cause fatigue and studies have shown that it is also possible to be affected by the Blue Light which emanates from most screens. Computer glasses are made specifically to help you during these specific hours of your day.
We will listen to your vision preferences and needs, While taking into consideration all aspects of your lifestyle. Our office staff has special training to explain the many benefits of lenses from Essilor. We are the first to know about the latest lenses as well as current promotions to make sure you get a great deal on your lenses. As highly trained and trusted professionals, our expertise will guide you every step of the way. You will enjoy and appreciate the experience, not to mention the results.
INSTAGRAM: Silvaeyecare
click on image for more details
Blue Light Blockers
There are a few ways of protecting your vision from harmful Blue Light.
Reduce exposure and usage of electronic devices. This may be difficult due to the increase of computers in the workplace. Some electronic devices have the capacity to change your screen settings to reduce blue light. There are also options of blue light filters that can be added directly onto your device.

When you are in the sun it is a good idea to wear a wide-brimmed hat.

Lenses with built-in Blue Light Filters. Here in the office of Dr. Ricardo Silva, we offer some of the best options that can be added to your glasses.
If you are interested in creating your next pair of glasses with Blue Light protection, ask one of our professional staff about some of the lenses we provide such as Eyezen, Transitions, and Prevencia.